Open the calendar and select the arrow to the right of New meeting. Then select Webinar.
In the current view you will add the information that applies to you and the ones who will present at the webinar. Add a) a title, b) who will present, c) a date and time, d) the location and e) a description what the meeting is about.Tip! Add an earlier time for you and the presenters than the one you will have for the participants. That will allow the presenters to prepare themselves before the webinar begins.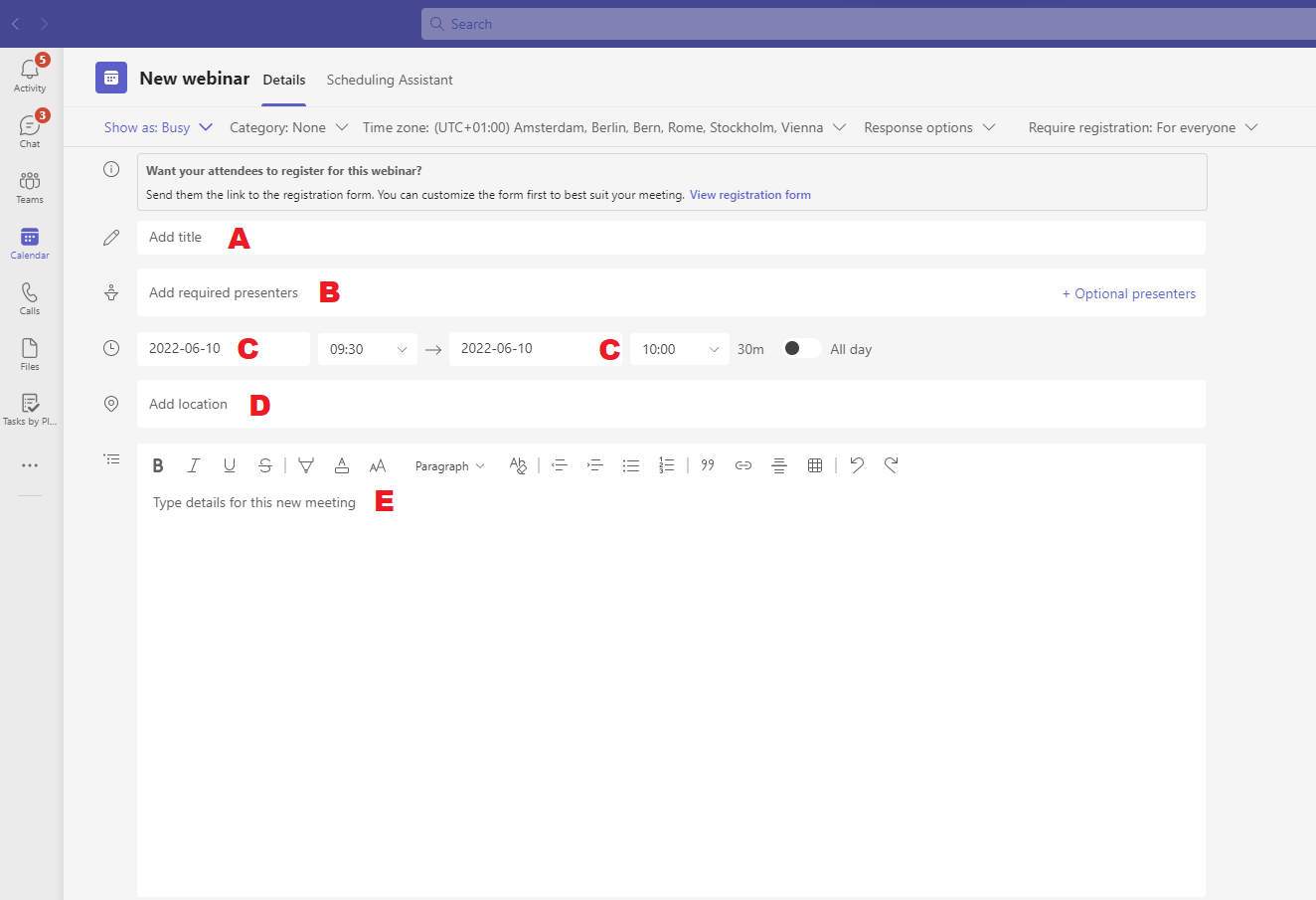 3. Click on Require registration. Choose if only people in the organization (Umeå University) will be able to register for the webinar, or if anyone should be able to participate.
4. Select View registration form to create the registration form.

5. A new window will open. Here you will add the information that applies to the participants.
6. At the top, you can add a picture that till be shown on the form.
7. To the left you add a title, the date and time, a description, and who will present and a description of them if you'd like.
8. To the right you will build the form that the attendees will fill out.

9. Select Add field to add more questions. Select Custom question to create your own questions.
10. When you're done with the form, select Save to show a preview of it.
11. Select Copy registration link to receive a link that you can send for example via email or social media.
12.Close the form and send the invitation to the presenters by selecting Send.

https://manual.its.umu.se/wp-content/uploads/2018/02/manual-loggo.png
0
0
Maja Wik
https://manual.its.umu.se/wp-content/uploads/2018/02/manual-loggo.png
Maja Wik
2021-10-06 07:44:58
2022-10-06 07:19:36
Book a webinar in Teams