Book a meeting in Teams or Outlook
Book a meeting in Teams
Open the calendar and select New meeting in the upper right corner.

Meeting view appear, follow these instructions to make a good meeting:
A) Add a title of the meeting
B) Add attendees by writing their name or email adress.
C) Adjust date and a start and end time.
D) Add a physical location if the meeting is on an physical location or conference room.
E) Write a description/agende/purpose of the meeting so the participants can prepare.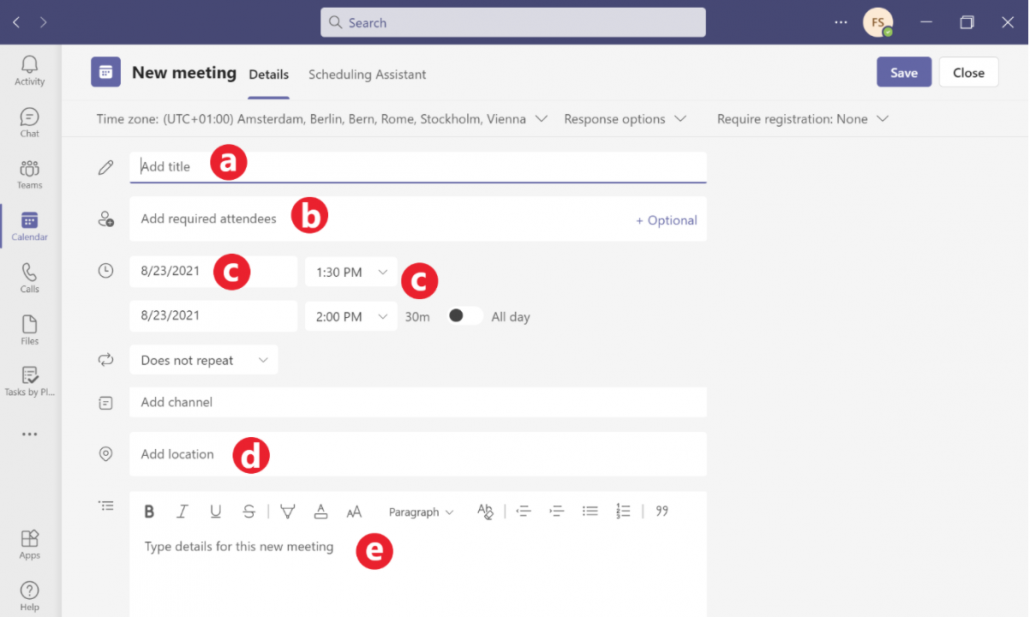 When you're done with the booking, select Send.


Book a meeting in Outlook
Open the calendar and select New Teams meeting in the upper menu.

Add a title, attendees, date, starting and ending, a location and a description what the meeting is about. You will now see a link to the meeting.
Select  Meeting options in the upper menu to make settings for the lobby, like if the attendees will be allowed to use their camera or microphone, or be able to chat and give reactions.
When you're done, select Send.

https://manual.its.umu.se/wp-content/uploads/2018/02/manual-loggo.png
0
0
Maja Wik
https://manual.its.umu.se/wp-content/uploads/2018/02/manual-loggo.png
Maja Wik
2021-09-28 12:42:34
2022-10-10 09:36:29
Book a meeting in Teams or Outlook