Checklist for troubleshooting error(s) under activation of UmU-ID
The following error(s) could occur during or after the activation of your UmU-ID:
The Password doesn't work
All passwords at Umeå University must be between 8-20 characters long and fall within the following criteria:
Password must contain at least 3 of the following 4:
at least one Capital letter
at least one small letter
at least one number
at least one special character (ex. * ! # )
Passwords CANNOT contain:
any portion of or your full name
your birthdate
the special character @
Passwords do not match
When typing in your password you may receive the following error: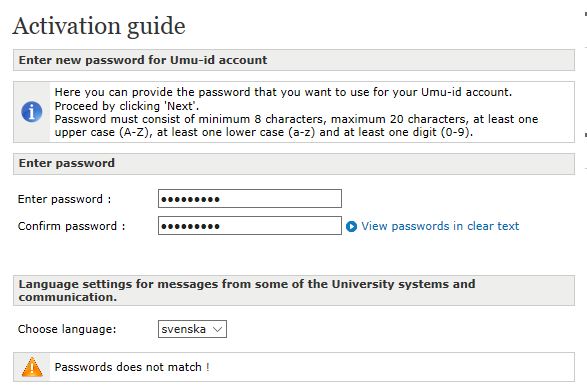 Click on "View passwords in clear text" and correct your error before continuing.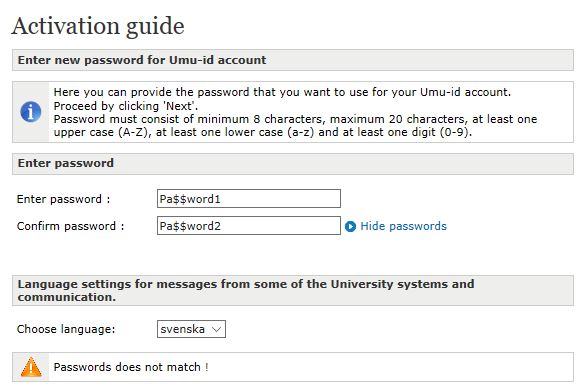 Illegal character(s) in your password
Passwords CANNOT contain:
any portion or full part of your name
your birthdate
the special character @
I have finished the activation guide and it worked but I still cannot log in
It can take a few hours before the information filters through all servers.  If you cannot login directly, wait an hour or two and try again.  If after that you still cannot login, contact Servicedesk.
I clicked on the "back" button and now cannot continue
Unfortunately during the activation process you cannot click on the "back" button,  This invalidates the temporary activation codes.   Activation codes are a one-time code.  Contact Servicedesk and ask for new activation codes to be sent to you.
I have not received the activation codes to my email
Activation codes are sent via email (at the beginning of each term they are sent via regular mail to your registered home address) to the address you wrote in.  If you do not receive the activation codes to that address, contact Servicedesk and ask that they send out new codes to a different address.
I cannot login with my temporary identity
The temporary activation codes sent to you are one time codes and used ONLY to activate your permanent UmU-ID.  You cannot login anywhere with them.  Surf to the following address and start the activation guide. https://www.servicedesk.its.umu.se/Activation/Guide/Default.aspx
https://manual.its.umu.se/wp-content/uploads/2018/02/manual-loggo.png
0
0
Jonas Sundström
https://manual.its.umu.se/wp-content/uploads/2018/02/manual-loggo.png
Jonas Sundström
2018-04-26 14:00:32
2023-06-22 10:54:36
Checklist for troubleshooting error(s) under activation of UmU-ID