How to configure eduroam certificates on Chromebook
1. Logon to https://www.eduroam.umu.se with your Umu-id.
If you're not connected to internet, you might have connect through UmU-Wlan first (logon with a browser).
2. Click on Skapa certifikat.
3. Copy the password in the box and click on Ladda ner personligt certifikat and Ladda ner root-certifikat.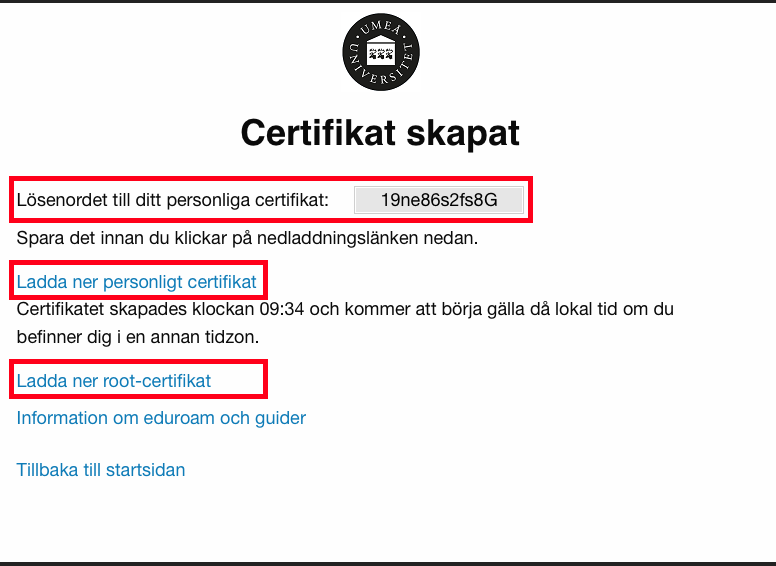 4. When downloading the root-certificate (UMU-CAROOT-CA) you don't have check the boxes.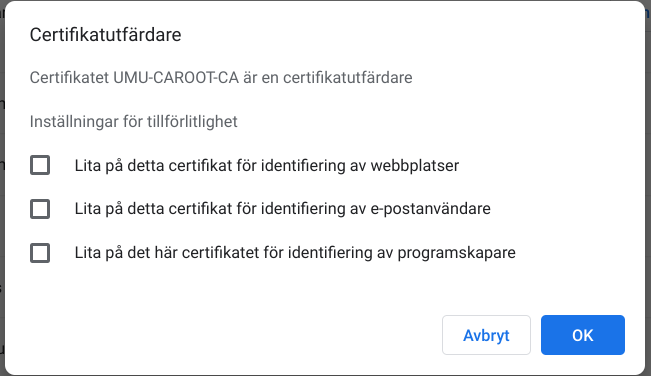 5. In Chromes address field, type chrome://settings/certificates, choose the tab Authorities. Click on Import…
6. Go to Downloads, import the file UMU-CAROOT-CA2. You might have to view All files to be able to select it.
7. Go to Your certificates, choose Import and bind to device your "Umu-id" certificate, then paste the password you copied in step 3.
Configure your Chromebook to use the certficate
1. Open Chrome again and go to chrome://settings. Under Network expand Add connection and choose Add Wi-Fi.
2. Configure Wi-Fi settings
SSID eduroam
Choose TLS or EAP-TLS as EAP method  (depends on version)
Choose none as Phase 2 authentication (if available)
Server CA-certifikat UMU-CAROOT-CA
Användarcertifikat UMU-CA0003-CA
Identity Umu-id@ad.umu.se (ex. "abcd0001@ad.umu.se")
Check Save identity and password
Click on Connect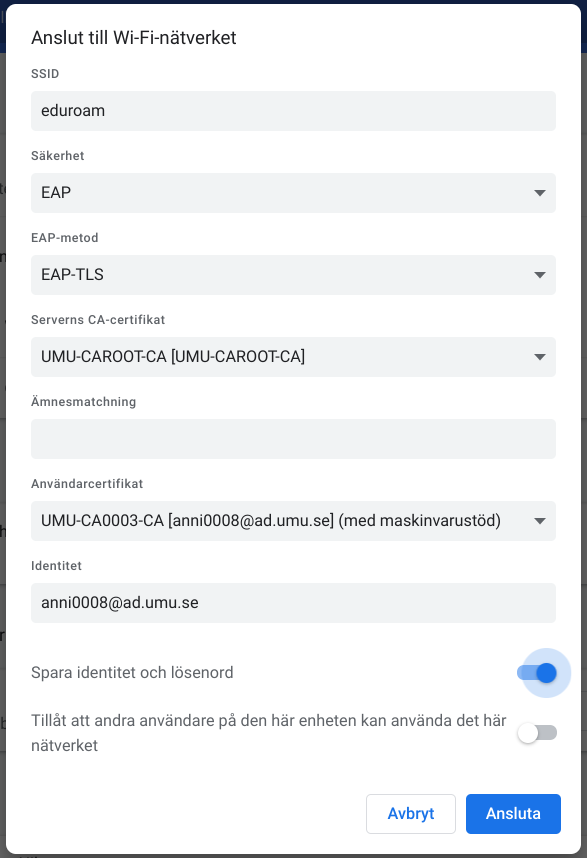 https://manual.its.umu.se/wp-content/uploads/2018/02/manual-loggo.png
0
0
Jens Mann
https://manual.its.umu.se/wp-content/uploads/2018/02/manual-loggo.png
Jens Mann
2020-06-12 13:17:26
2021-01-17 21:07:01
Configure eduroam on Chromebook