To find out which folders and files you have shared with others, look for two icons.
Icon for a shared folder:

Icon for a shared file:

Find out who you have shared folders/files with
If you want to see who you have shared a folder with, select the shared folder. To the right you can see information about the members. You can choose to delete them, change permissions or just view who has access to the folder.

You can also click on the "Share" icon. From here you can choose to share the file to more people but also click on to whom you share with, see red box. If you click on "Shared with", you will come to a new view where all members are presented in a list.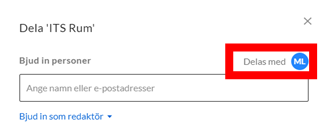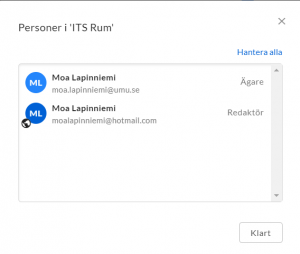 Find out who you share a single file with
If you want to see who you share a single file with, do the same as above and select "Share" or click on Icon for shared file.

When you click on the icon, you will get a list of the people you have shared with and can also change or remove permissions for those you have shared the file with.
Remember!
Take the opportunity to clear your shared documents. If collaboration is no longer needed, you do not need to reshare the file from OneDrive.
When you download shared files / folders, only one copy of the file / folder is saved. The file you upload to OneDrive is not still shared.
https://manual.its.umu.se/wp-content/uploads/2018/02/manual-loggo.png
0
0
Elin Sköld
https://manual.its.umu.se/wp-content/uploads/2018/02/manual-loggo.png
Elin Sköld
2020-08-14 07:05:24
2020-12-15 07:10:04
Find out who you are sharing files with in Box