This guide shows how you use Ciscos software to connect to eduroam on campus.
Note – you must be physically ON Umeå University's campus and have access to Umu wifi to complete this guide. 
The information in this guide cannot be used in NUS.  If you are in the hospital buildings you must install eduroam manually.
1. Open Settings – Wi-Fi and choose Umu wifi.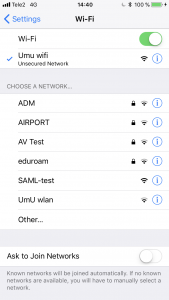 2. Start Safari and surf to http://www.eduroam.umu.se.  You will be automatically redirected to the Get eduroam website.
3. Type in your Umu-id (umu-id@ad.umu.se) and password, then click on Sign On.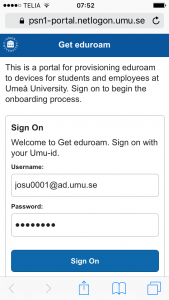 4. Click on Start to advance to the next step.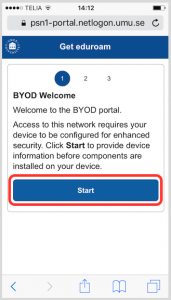 5. On the top line write in your name and on the second line write in iPhone.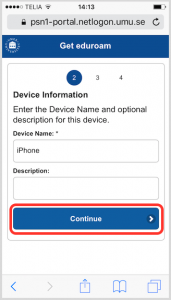 6. Click on the picture at the bottom, Launch Apple Profile and Certificate Installer Now.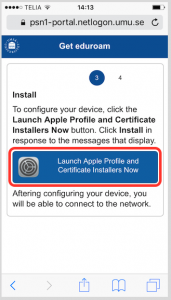 7. You will now install DigiCert Assured ID Root CA. Click on Install.
8. When it is done click on Done.
9. Next you will install Profil Service. Install.
10. When that certificate is installed click on Done.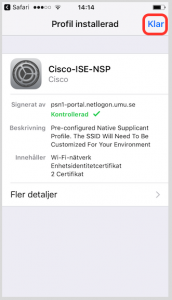 11. Once that is done you will hopefully see the page that says Success.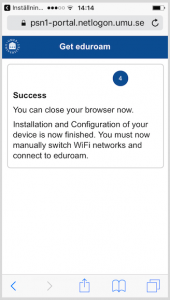 12.Open Settings -> Wi-Fi13. On Umu wifi click on the (i) at the far right
15. Click on Forget this network.
16. Go back and click on eduroam. You should now be connected.
https://manual.its.umu.se/wp-content/uploads/2018/02/manual-loggo.png
0
0
Linda Johansson
https://manual.its.umu.se/wp-content/uploads/2018/02/manual-loggo.png
Linda Johansson
2017-09-29 13:35:27
2021-05-19 13:33:33
Install eduroam for iPhone/iPad (Umu wifi)