Mina medgivanden (My consents) for students
In the Student Portal you can give consent to certain companies to check in the Ladok system that you are registered as a student or not.
This is required so that you can get access to student rebates, for example, internet in your student room.  No personal information is given to these companies that you consent to.
As default, NO company has access to find out if you are a student (or not) at Umeå University.
Kommuniceras internet services at student prices
Bostnet/Kommunicera reviews only active student permissions when a service is ordered through them.  Whether or not you have an active contract with Bostnet/Kommunicera, or one of their affiliates or not, to order internet through their services at a student price you need to do the following:
1. Give your consent for Bostnet/Kommunicera in the Portal
2. Order one of their services at student prices: https://www.bostnet.se/Kommunicera/OrderEasy
To give, for example, Bostnet/Kommunicera or Bostaden consent to your information do the following:
1. Log in to the Portal http://www.student.umu.se
2. Go to the tab My profile.
3. Click on the heading "My consents" from the menu.
4. Check mark those companies that you give concent  to check whether or not you are a student.
5. Click on 'Save'.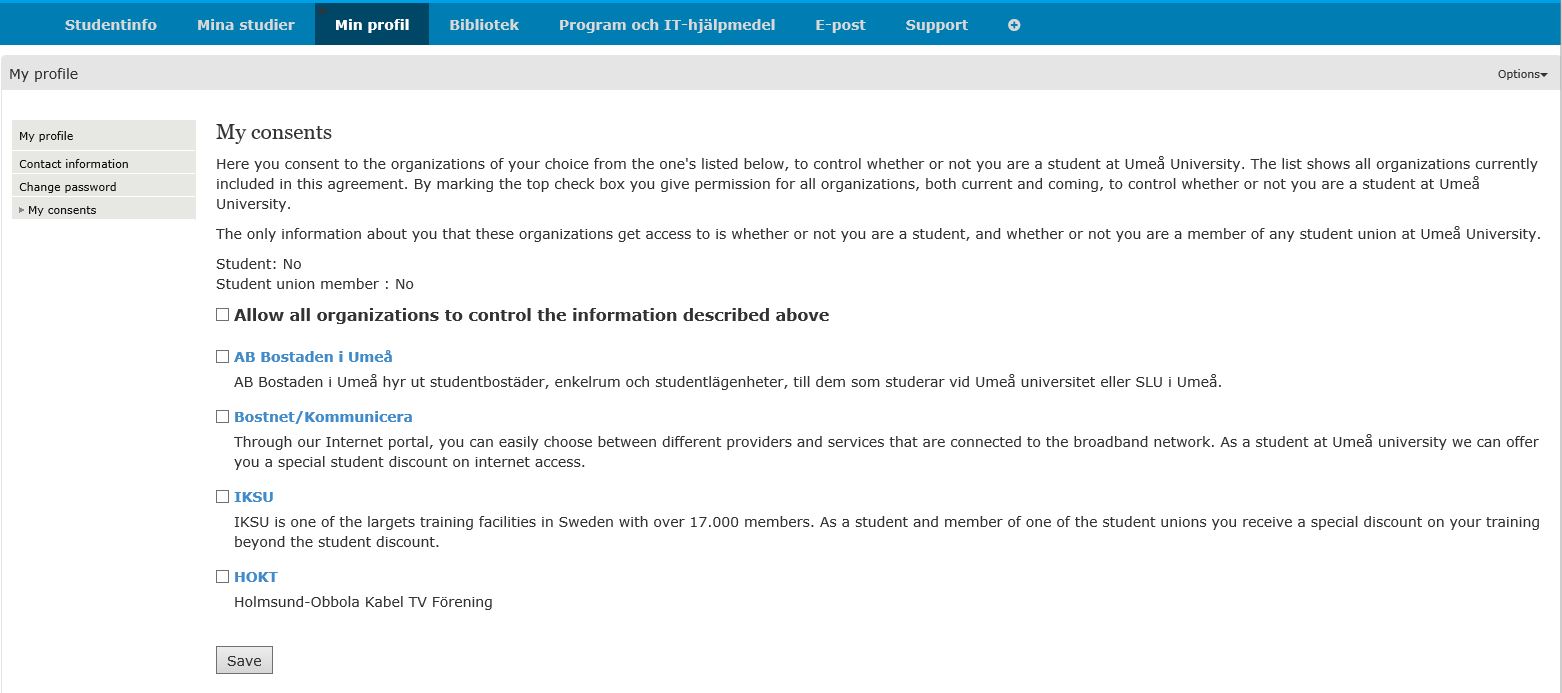 If you do not receive student rebates from companies, it is because you are not currently registered in a course in our Ladok system.  You must be registered in order to receive rebates.
**NOTE** it can take approximately 24 hours before the companies have access to the Ladok system.
https://manual.its.umu.se/wp-content/uploads/2018/02/manual-loggo.png
0
0
Linda Johansson
https://manual.its.umu.se/wp-content/uploads/2018/02/manual-loggo.png
Linda Johansson
2017-07-05 12:13:49
2019-04-25 07:37:10
Portalen: My consents