This guide will walk you through how to schedule a meeting (to be scheduled later).
There are two way to schedule a meeting. Either by going through the Zoom client installed on your computer or by logging in through your web browser. This guide describes the latter option.
Surf to   http://zoom.umu.se/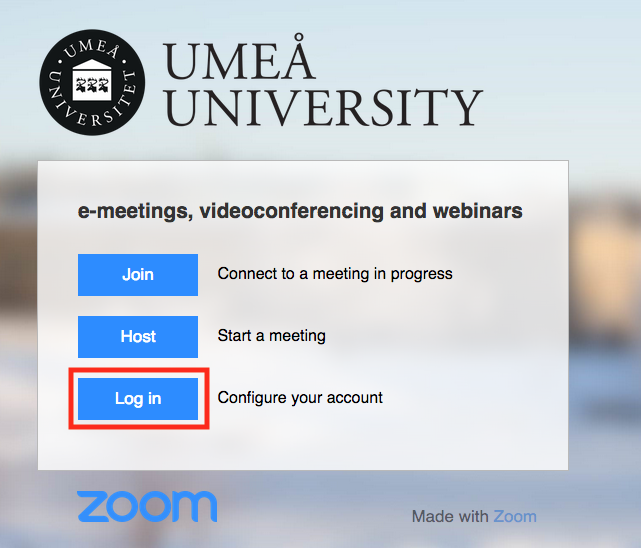 Click on Log in and login in with your Umu Id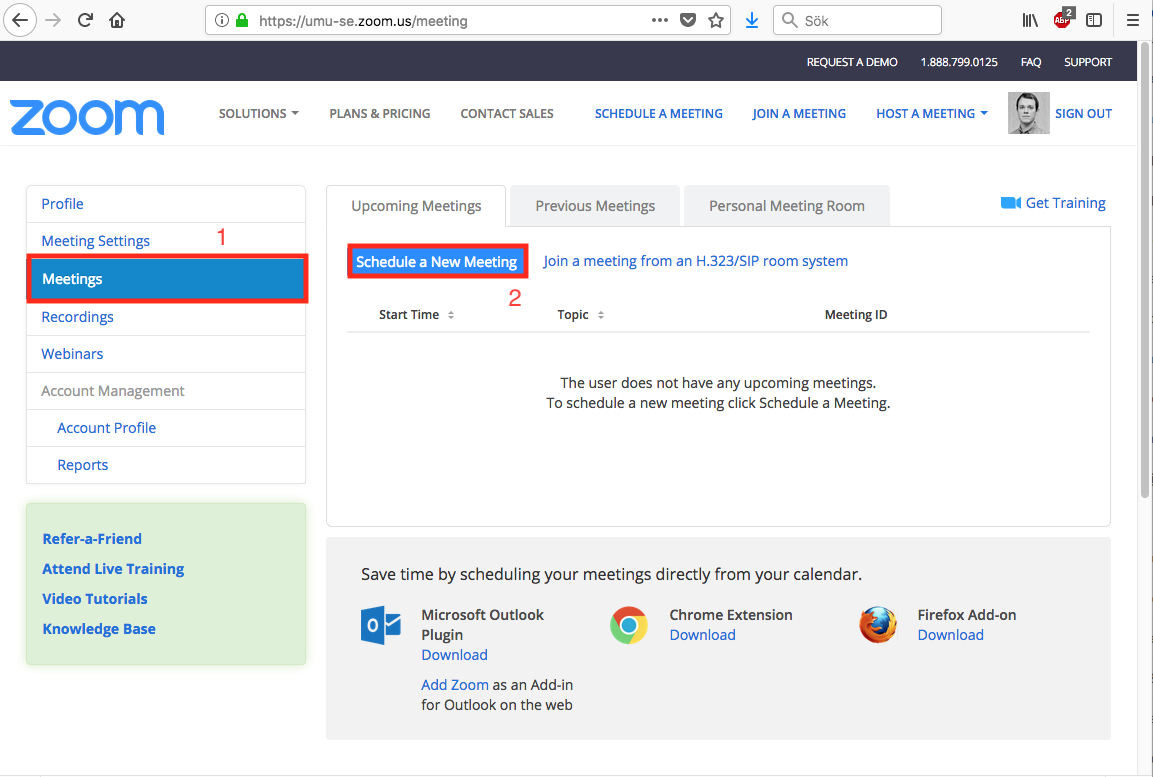 Zooms web portal is now opened.
Go to 1. Meetings and then from the left menu click on 2. Schedule a New Meeting
Here are some of the settings that can be changed/made for a scheduled meeting.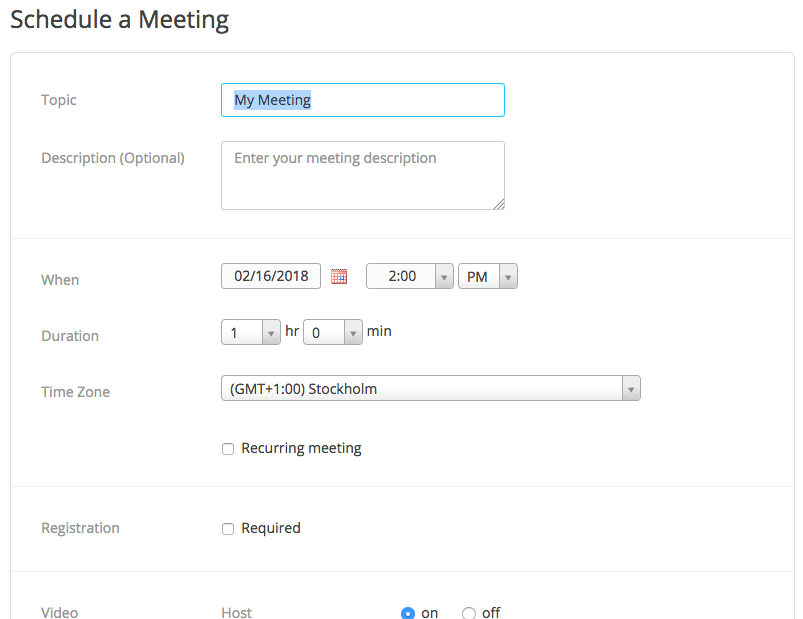 Topic: Type in the name or subject of the meeting
Description: Type in a short description of your meeting
When: Choose a date and starting time for your meeting
Duration: Choose how long your meeting is going to be
Registration: By enabling registration for a meeting, all participants must register via email. Click on the link below to read more about settings for this.
https://support.zoom.us/hc/en-us/articles/211579443-Registration-for-Meetings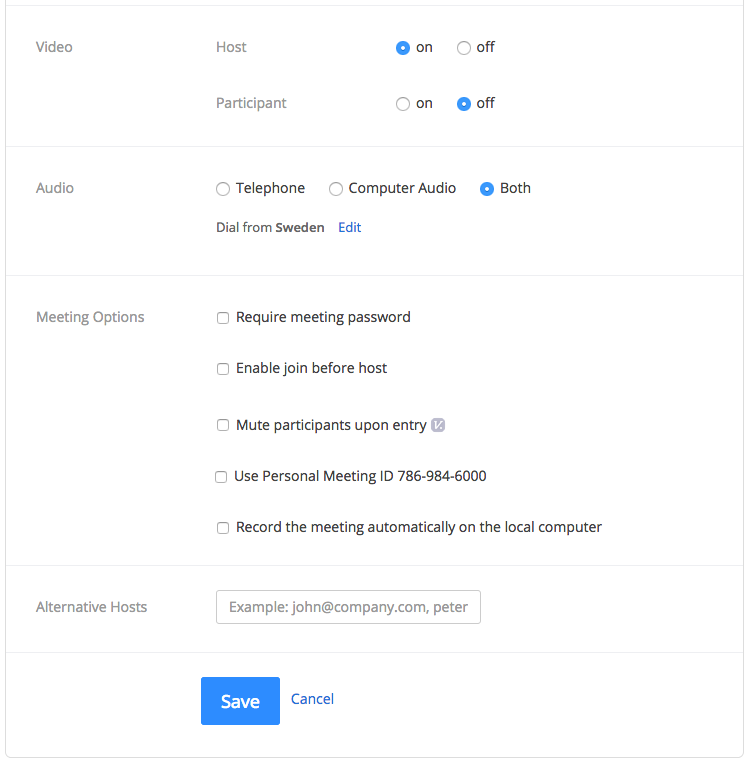 Video: Set whether the participants' video should start automatically when the meeting opens
Audio: Choose which devices can link up to the meeting
Meeting options:
Require meeting password
There is a possibility to require a password to come into your meeting
Enable join before host
This setting allows participants to enter the meeting before the host
Mute participants upon entry
Check this setting if the participants' microphone should be turned off when they open the meeting
Use Personal Meeting ID
With this setting, the personal Zoom room is selected as the address of the meeting.. Read more about Personal Meeting ID here https://support.zoom.us/hc/en-us/articles/203276937-Using-Personal-Meeting-ID-PMI-
Record the meeting automatically on the local computer
Select this setting if the meeting is to be recorded automatically and saved to your computer
Alternative Hosts: Enter email addresses here if the meeting should have multiple hosts
Save and close the meeting by clicking on Save.
The next step shows a summary of the settings made for the meeting.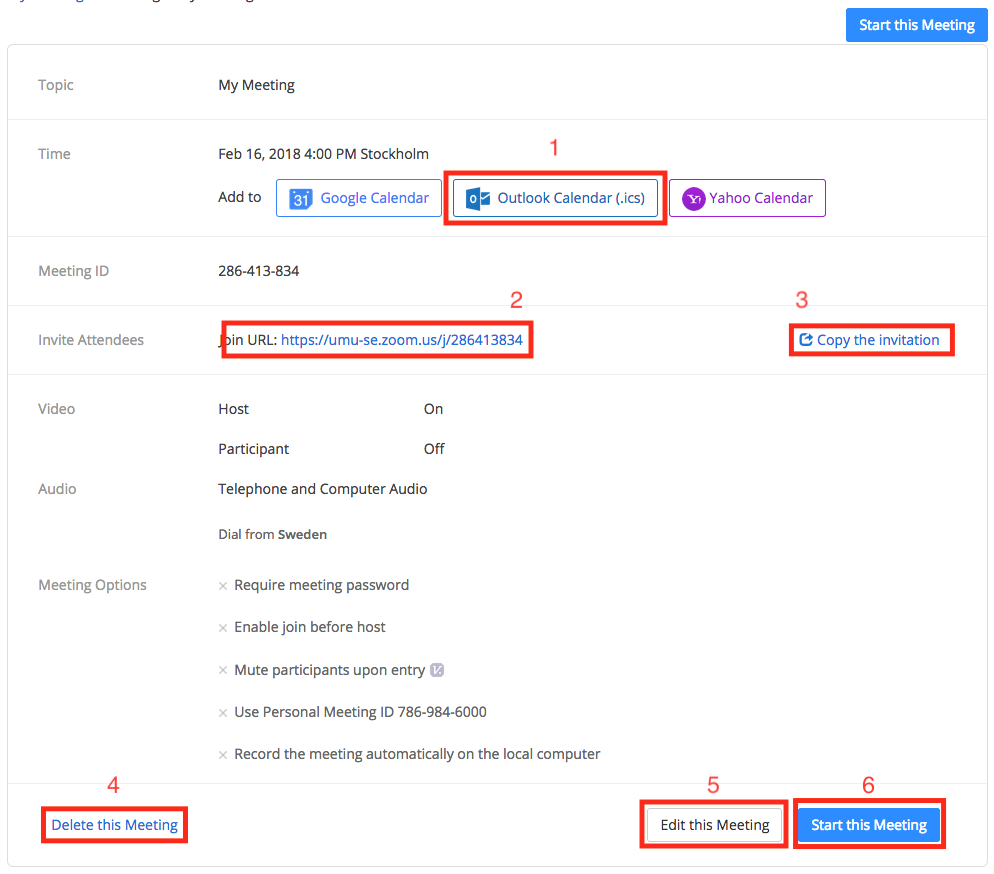 Here you can save the calendar event to your calendar (1).
Direct link to the meeting (2). Right click and choose Copy Link Address to send it on.
Link to copy an invitation to the meeting "Copy the invitation" (3).
https://manual.its.umu.se/wp-content/uploads/2018/02/manual-loggo.png
0
0
Linda Johansson
https://manual.its.umu.se/wp-content/uploads/2018/02/manual-loggo.png
Linda Johansson
2020-03-18 09:43:55
2020-03-18 09:43:55
Schedule a Zoom meeting