Every user has a personal meeting room in Zoom.  Your personal meeting room-ID and with your personal link there are two different ways you can invite members into your personal meeting room.
You can start a meeting with your meetingroom, and when you need/want to schedule it for future use.  You can always use the same address when you invite people into your meeting room.  This is just one example of a practical way you can a recurring  tutorials with your students and always use the same link.
Your personal link
Surf to https://umu.zoom.us click on Log in and login with your umu-id
Click on  Profile in the left menu
Find the row for Personal Link and click on Customize.  Type in how you wish the ending of your Zoom link to look like. Ex. https://umu.zoom.us/my/JohnDoe
Click on Save changes

Personal meeting-ID
All meetings in Zoom always have an ID number.  So does your personal meetingroom.  You will find the ID number in the same place as where you setup your personal link.  i.e. at umu.zoom.us  (click on Profile)
Here you can click Edit and check what you want your personal ID to be, manage it when you start a spontaneous meeting. It will always be your personal meeting room that starts when you click the New Meeting button in the Zoom desktop app.

When you use the Copy the invitation in Zoom that ID number will be copied.   Your personal link will also go to the same meeting.
Share meeting appointments with your students or attendees
Now you can schedule appointments and copy your personal link eg. https://umu.zoom.us/my/JohnDoe and insert it into the learning platform or email it to your meeting participants. The same link can be used as many times as possible.
Starting a meeting in your personal meeting room
You can start your meeting via the sam elink you have given to your meeting attendees.
If you use the Zoom desktop desktop app on your computer, click the small downward arrow at the New Meeting button and make sure you have a checkmark in front of Use My Personal Meeting ID (PMI). Then just click on the button to start.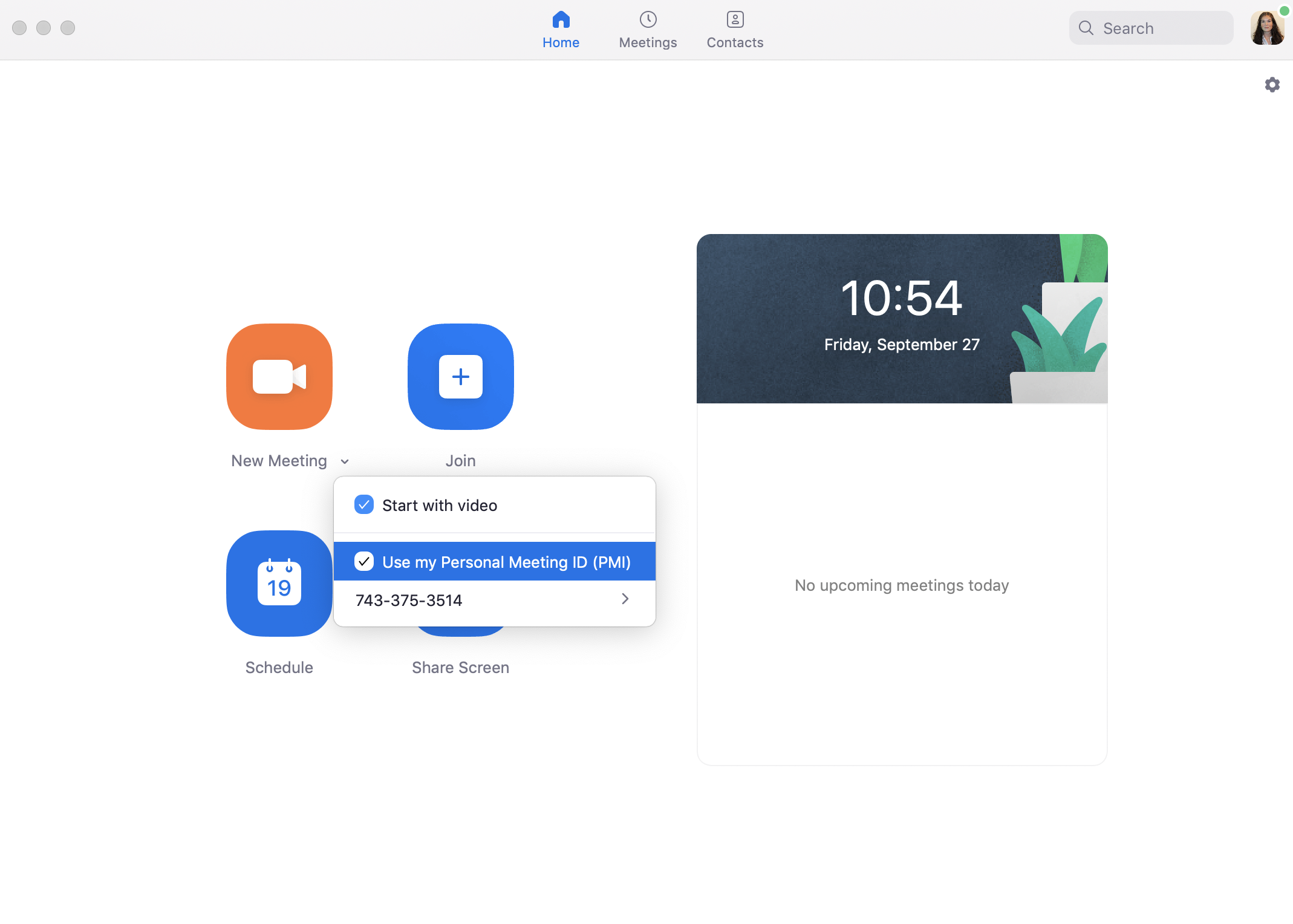 Tips! If the desktop app asks for a login, select SSO login on the right and then type umu in the Company domain box.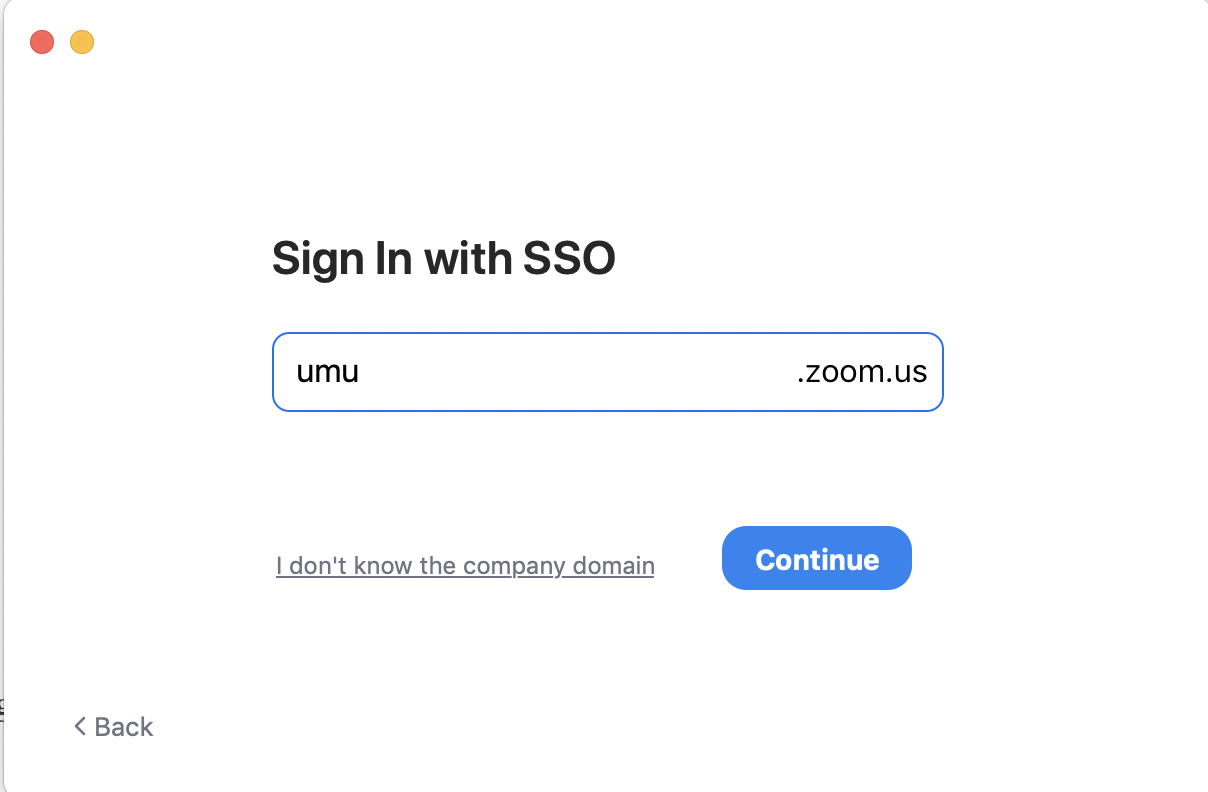 Settings for your personal meeting room
You can change the settings for all future meetings in your personal meeting room. Ex. if you want a password to enter the meeting room or that all participants who join the meeting room automatically have a silenced microphone.
Surf to https://umu.zoom.us and click on Log in and login with your umu-id
Click on Meetings in the left menu
Click on Personal meeting room
Click on Edit this meeting
Set desirable settings for upcoming meetings in your meeting room
Click on Save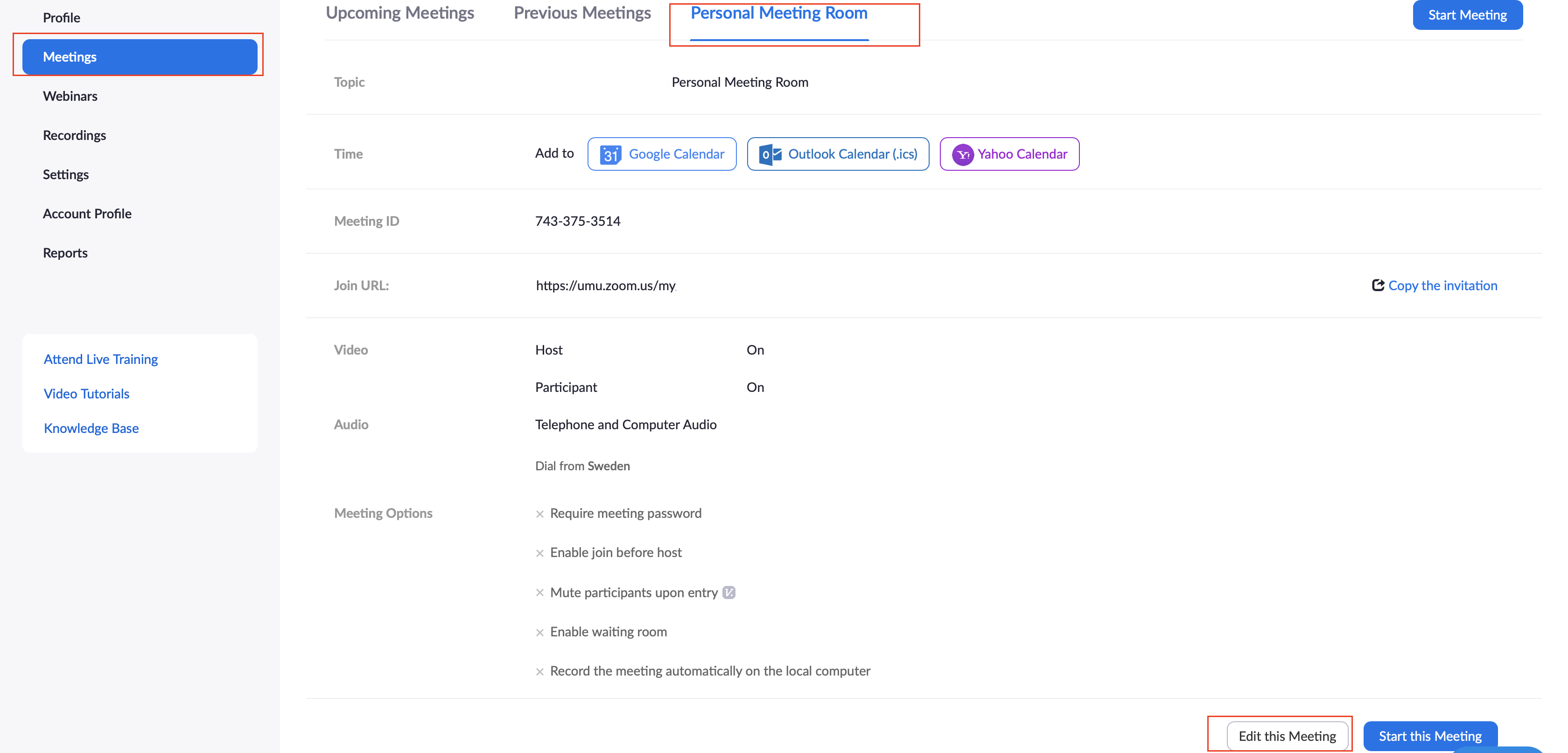 Tips! Allow the Enable join before host setting to remain disabled so that participants will not have access to your meeting room when you are not there.
https://manual.its.umu.se/wp-content/uploads/2018/02/manual-loggo.png
0
0
Linda Johansson
https://manual.its.umu.se/wp-content/uploads/2018/02/manual-loggo.png
Linda Johansson
2020-03-18 09:17:08
2020-03-18 09:17:08
Personal Zoom meeting room