Register student thesis in DiVA
This manual is aimed for students when registering student/master thesis in DiVA.
Please note that the thesis is then published by the administrator at your institution, and this is where you turn if you have any questions regarding the registration and publication of your thesis.
Registering in DiVA
Degree projects and student theses produced at Umeå University must be registered in DiVA and a pdf of the thesis must be uploaded for archiving purposes. With your approval, the thesis can also be published and openly accessible in DiVA.
Register thesis with several authors
If you register a thesis in full text and there are several authors to the thesis, all authors must approve by signing a publishing agreement. The signed agreement should be archived in DiVA, you can upload it to DiVA yourself.
Use this form, should the department not provide a form of their own:
Start your registration
Log in to DiVA using your Umu-id.
Select publication type "Student thesis" and click "Continue".
The registration is carried out in three steps:
Fill in information about your thesis.
Upload a pdf version of your thesis.
Review all details and submit your registration for final approval.
Fill in information about the authors of the thesis – yourself and any potential co-authors. Fill in information about your thesis and the degree that the thesis is a part of.
Mandatory fields are marked with * in the manual.
Name*
Fill in your last name and first name. If there are several authors, please click "Another author" and fill in the co-authors details as well. Enter the authors in the same order as they appear on the thesis title sheet.
It is not mandatory to fill in your Umu-id (Local user id), but it is recommended. Your Umu-id is a permanent identifier that makes sure you are linked to your thesis even if you change names or share the same name with someone else.
Read more about the Umu-id:
Department/section
Click "Choose organisation" and search for or find your department/section in the list using the + and – symbols.
Please note that it is important that you choose the right department/section in order for your thesis to be registered and approved. If you are unsure, please ask your supervisor or a thesis administrator at your department/section.
If you specify a section, its parent department will be automatically registered.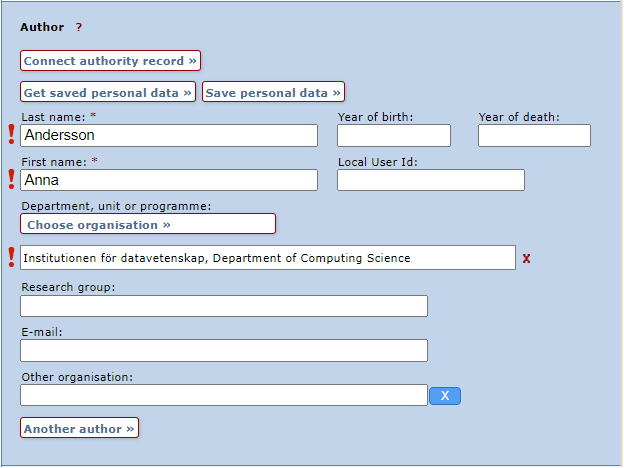 Read more about the departments and sections at Umeå University:
Email address
Fill in your email address if you want to receive a confirmation email when your student thesis has been registered and when the registration has been approved by your department. Your email address will not be visible through searches in DiVA.
Other organisation
This field should only be filled in if the student thesis was written at another university. If you wrote the thesis at Umeå University, this field must be left empty.
Cooperation
Please state if you have cooperated with any external partners outside the University. The external partner's name is then specified in the text field.
Title*
State the title of the thesis, any potential subtitle and the language of the title.
If your thesis has a title in another language, this is to be entered in the field "Alternative title", and the language must be selected from the listed options.
Degree level*
This field describes the degree level that the thesis aims to achieve.
Select thesis level and how many university credits the thesis involves.
Select your educational programme and subject/course if it is available in the listed options. If your education is not included in the lists, you can carry on without filling in these fields.
Year and number of pages*
Please specify the year when the thesis was finally approved.
Enter the number of pages. The number of pages to enter should be the same as the last numbered page of the thesis. Appendices must not be included in the number of pages.
Publication series
If your student thesis is part of a series, select the series from the listed options, fill in the number of your student thesis in the series.
If the series is not listed, please enter the details in the section for "Other series".
Most student theses are not included in a series.
Identifiers
In the identifier field, you can fill in permanent identifiers linked to the publication.
If your department/section has instructed you to fill these fields in, please follow their instructions.
If you have not been instructed to fill in the fields, please leave them empty.
More information about persistent idenfiers:
National subject category*
Choose national subject category from the listed options. You can either search for or find your category by using the + and – symbols.
Choose the (or those) subject categories that best correspond to your subject. Good enough is all you can do as an exact match may not be possible.
Keywords*
You can enter the subjects you find best describe your thesis in the text field under keywords. Keywords should be short, and consist of one or a few words. You can add several keywords after another. Separate your keywords with commas.
Abstract*
Copy and paste the "abstract" or "summary" used in your thesis.
Read through and make sure the text looks right. Pay particular attention to spaces and paragraphing, and make sure no extra characters have been accidentally included. The paragraphing is correct if there is a space between paragraphs.
Supervisor and examiner
Enter the supervisor's and the examiner's names. If you have several supervisors, you can use the button "Another supervisor" or "Another examiner" to add them.
If you have not been given more information about your supervisor or examiner from your department/section or supervisor, you do not have to enter any further details.
Presentation
You do not need to enter a presentation unless you have been instructed to do so by your department.
Reviewing, publishing and archiving
On the last page of the form, you can see all the details you have entered. Please check that everything is correct. If you wish to edit anything, click "Edit information" on the top left or click "Back" to go back to make changes. Check that the PDF can be opened by clicking the red link.
When all details are correct and the file is openable, please click "Submit".
What happens next?
When you submit your student thesis, the registration will be reviewed by an administrator at your department/section before it is published in DiVA. Consequently, you cannot see your thesis in DiVA immediately after registration.
When the administrator has published or archived your thesis, you can find it in DiVA, on uppsatser.se, and through search engines like Google Scholar. If you have entered your email address, you will also receive confirmation of when the student thesis has been registered and another confirmation when the thesis has been published or archived.
Do you need to correct a mistake? Are you in need of a speedy publication?
Do you want to know if your thesis was successfully registered?
Please contact an administrator at your department/section for assistance and further information.