This guide is written for manual installation of the certificates needed to connect to the eduroam wireless network on a PC running macOS.
NOTE! The guide is written with the help of an MacBook Pro that has had eduroam before and is running macOS 12 Monterey. If you have had eduroam before on your computer, it is recommended that you uninstall/delete certificates and profiles and perform a reboot before trying to follow this manual. If you are unsure on how to proceed, you can contact Servicedesk.
Step 1
To download the certificates, you need to be connected to the internet. Our recommendation is that you connect to the network called UmU wlan. Select UmU wlan 1️⃣ in the network list and follow the on-screen instructions.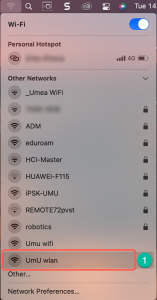 Step 2
Start Safari and go to http://www.eduroam.umu.se
Log in with your Umu-id and password.
Step 3 – Create Certificate
Once logged in, you will need to create your certificate. Click Create Certificate 1️⃣.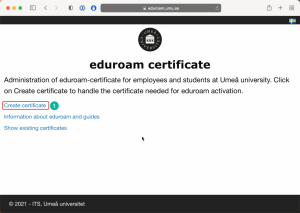 On the next page, you need to give the certificate a "name" 2️⃣,
then click on the blue Create Certificate button 3️⃣.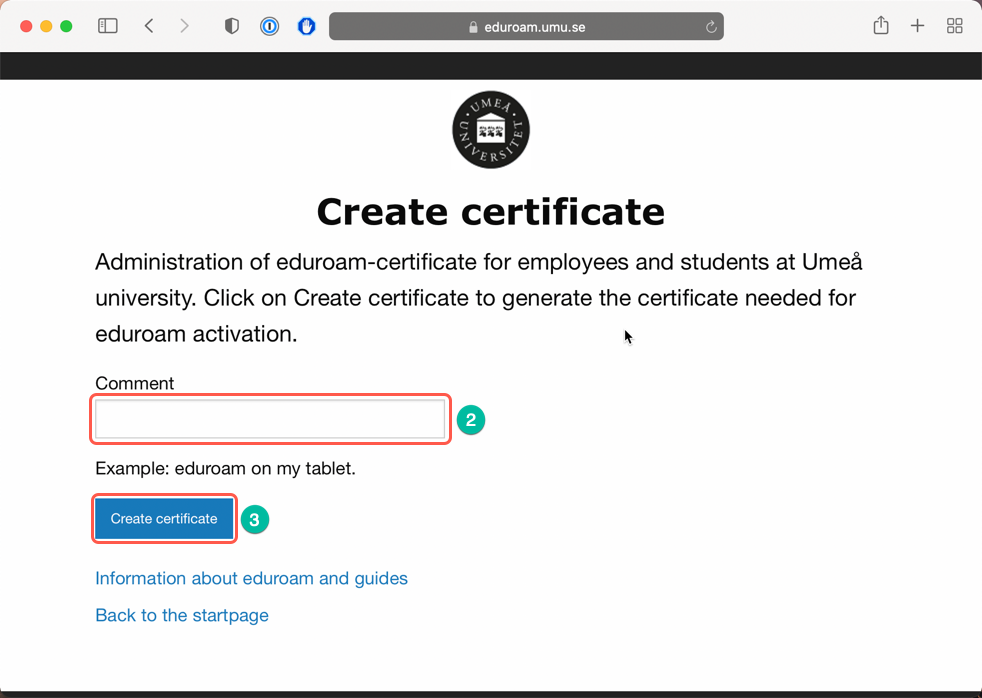 It may take a while but eventually you will come to a new page.
Step 4 – Download the certificates
Once the certificates have been created, they need to be downloaded.
In addition to a personal certificate 1️⃣, you also need to download a so-called ROOT certificate 2️⃣.
The personal certificate has also been given a password 3️⃣.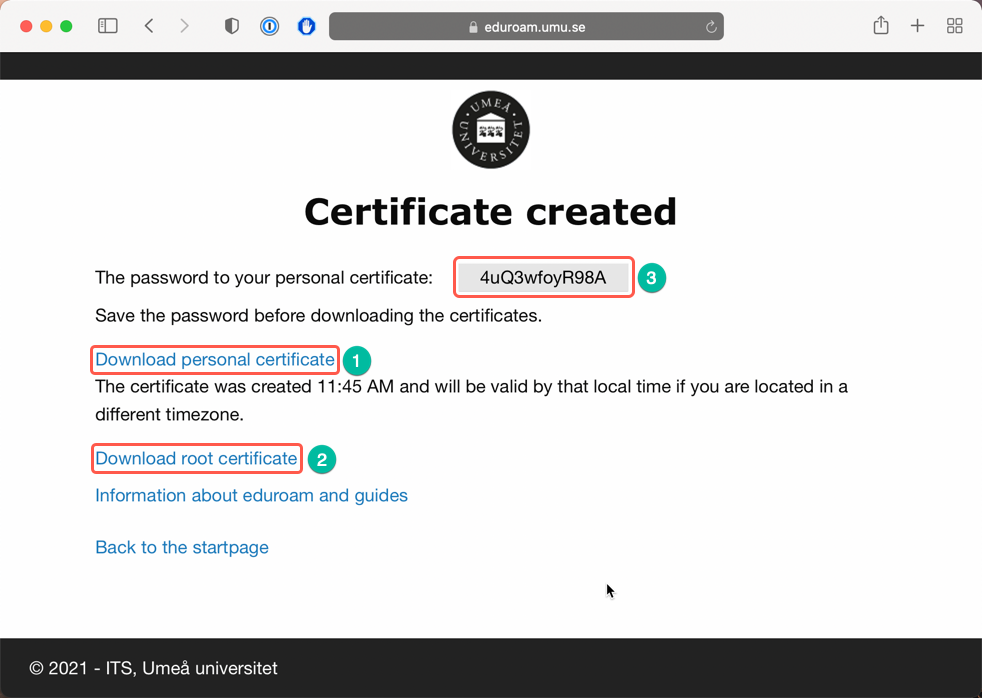 Start by copying the password for the personal certificate 3️⃣. Then click Download Personal Certificate 1️⃣. You will probably then be met by a warning, if so click on Allow. Then click Download Root Certificate 2️⃣.
Step 5 – Install Root Certificate
Open the Downloads folder in Finder 1️⃣. Also open Keychain Access 2️⃣,
suggested via the search function Spotlight.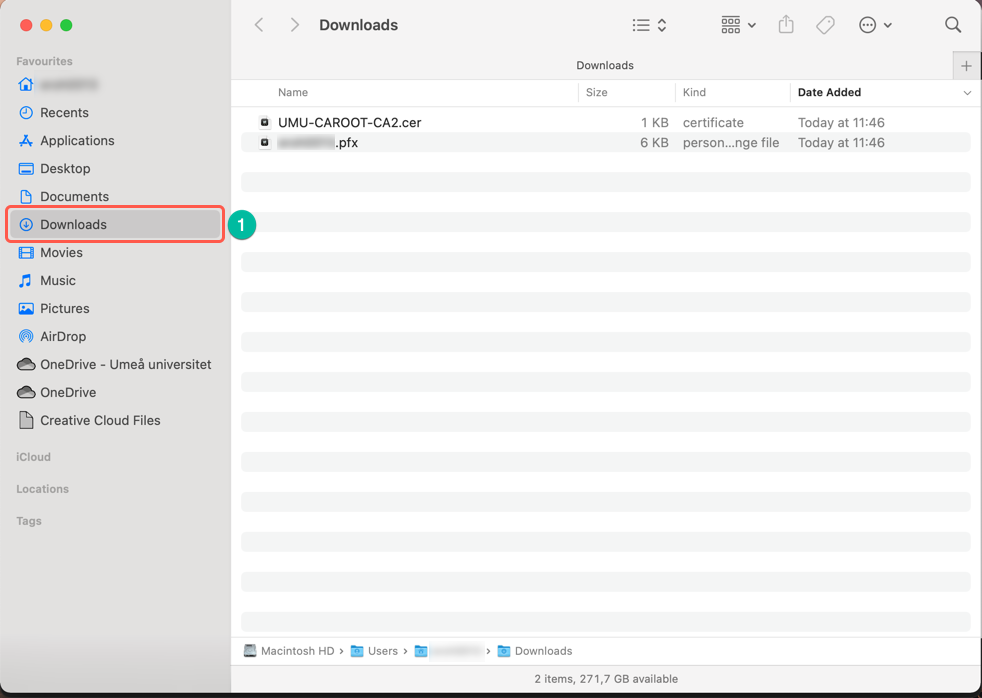 In Keychain Access click on System 3️⃣ then on Certificates 4️⃣.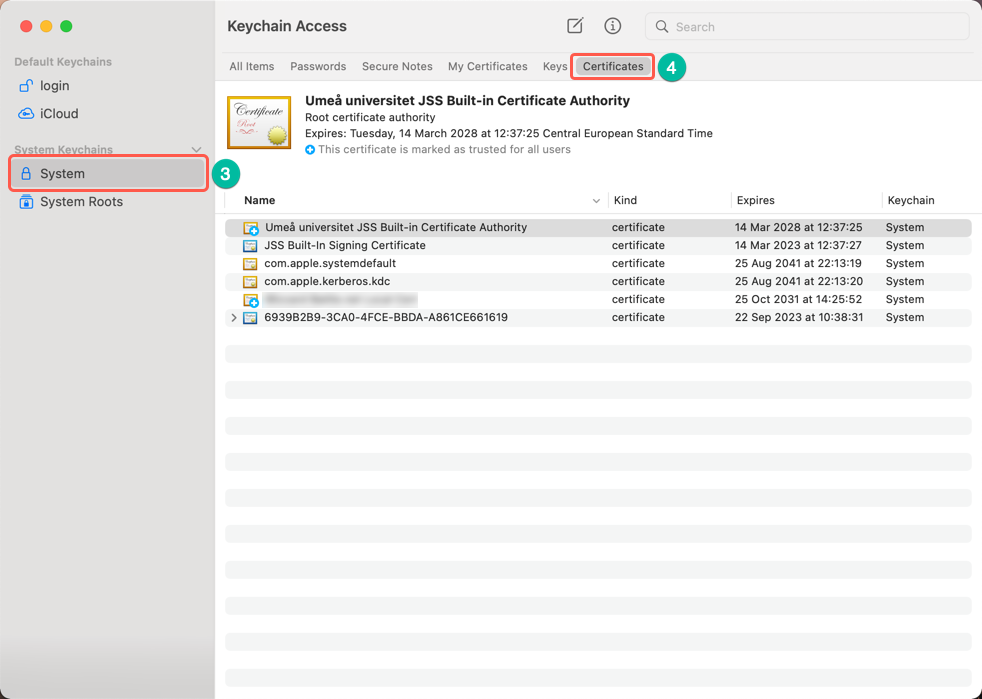 Make sure the Downloads folder in the Finder and Keychain Access are open at the same time. You need to drag and drop the UMU-CAROOT-CA2.cer certificate 5️⃣ from Downloads to the Keychain Access 6️⃣.
Then follow the information on the screen. See Tips and Tricks for drag and drop help.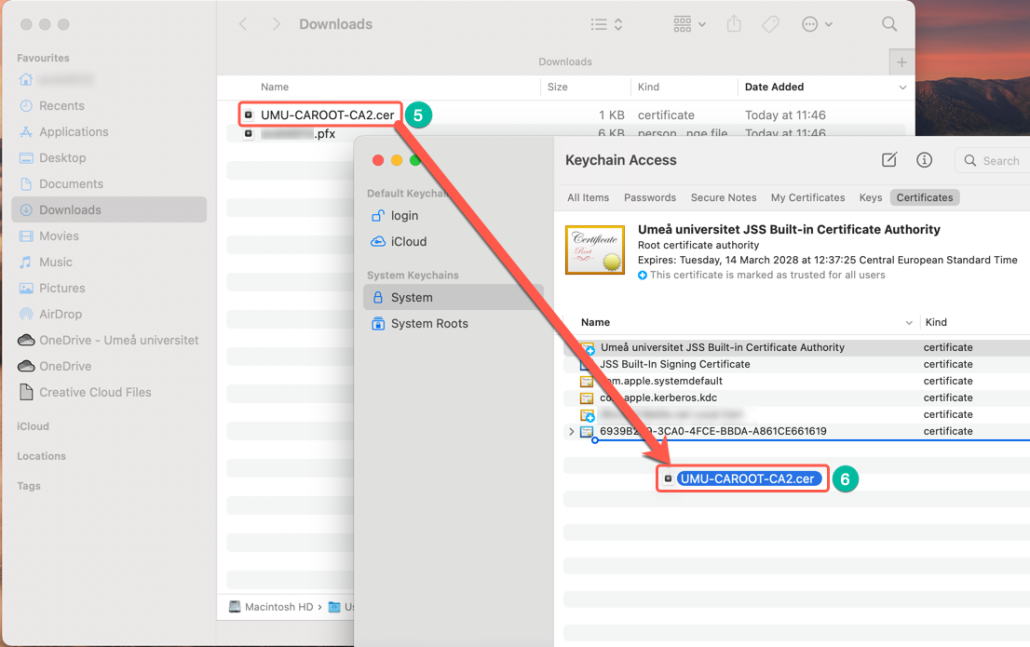 Step 6 – Install Personal Certificate
Change the view in Keychain Access to Login 1️⃣ and Certificate 2️⃣.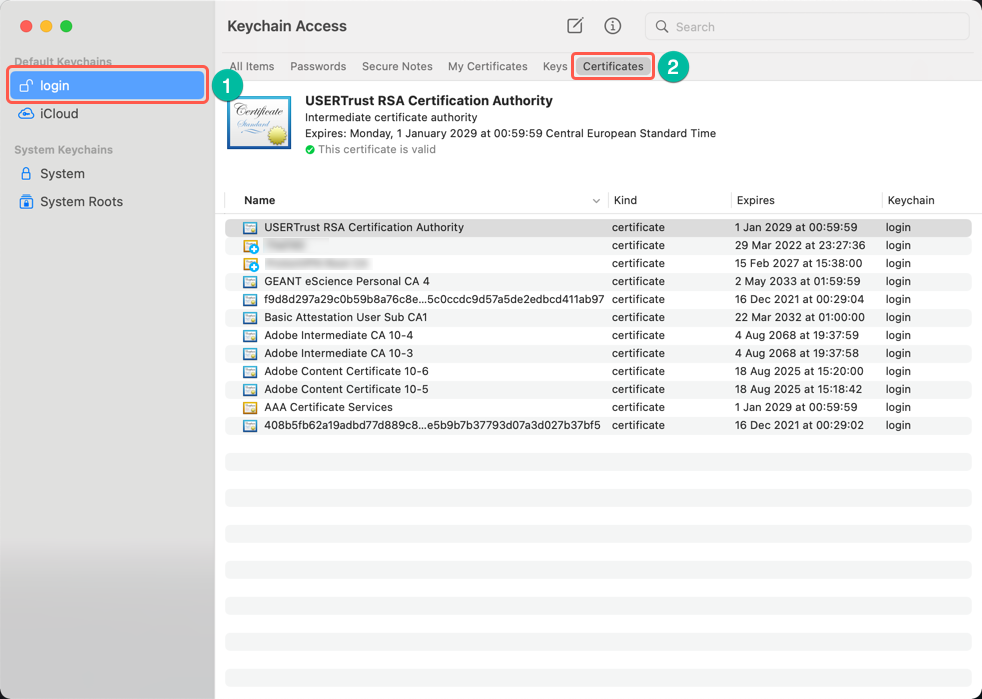 Now you need to drag and drop your personal certificate named Umu-id.pfx 3️⃣ from Downloads in Finder to Keychain Access 4️⃣. In the same way dragged and dropped the Root Certificate in Step 5.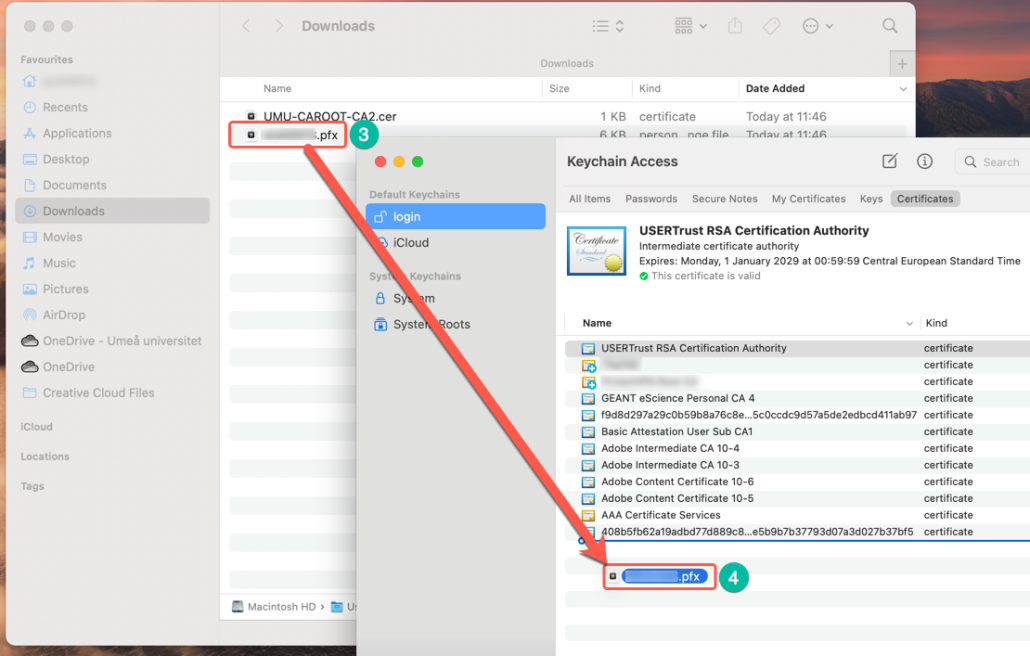 You will now be prompted to enter the password you received and copied in Step 4. Paste 5️⃣ and click OK 6️⃣.

Step 7 – Connect to eduroam
Open the list of available networks again and click on eduroam 1️⃣.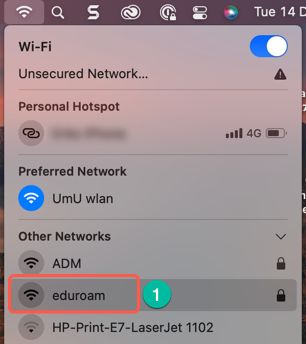 If everything is correct, you should now see the window below where you can select your personal certificate (Umu-id@ad.umu.se) 2️⃣. Account name and Password can be left blank. Click Connect 3️⃣.
NOTE: If you are using an older version of macOS (11 or earlier) you will likely need to change mode to EAP-TLS.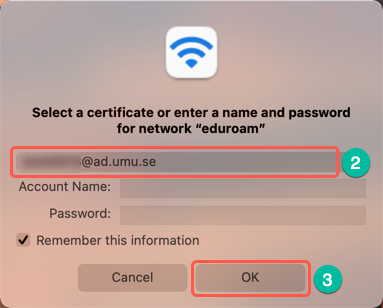 Click Continue 4️⃣.

Type your computer username password 5️⃣ and then it is important you click Always Allow 6️⃣.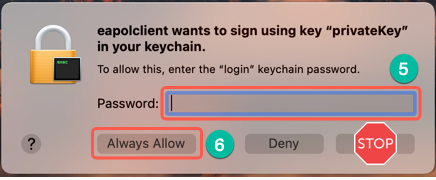 Type your computer username password 7️⃣ once more and click Allow 8️⃣.

Give it a few seconds and then you should be connected to eduroam.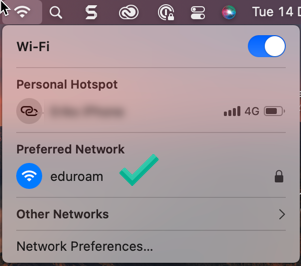 Tips and Tricks – Drag and drop the certificate
Click and hold the file and while holding down move the cursor to the destination and then you can release to drop it. Click on the image below for an animated GIF that shows the process.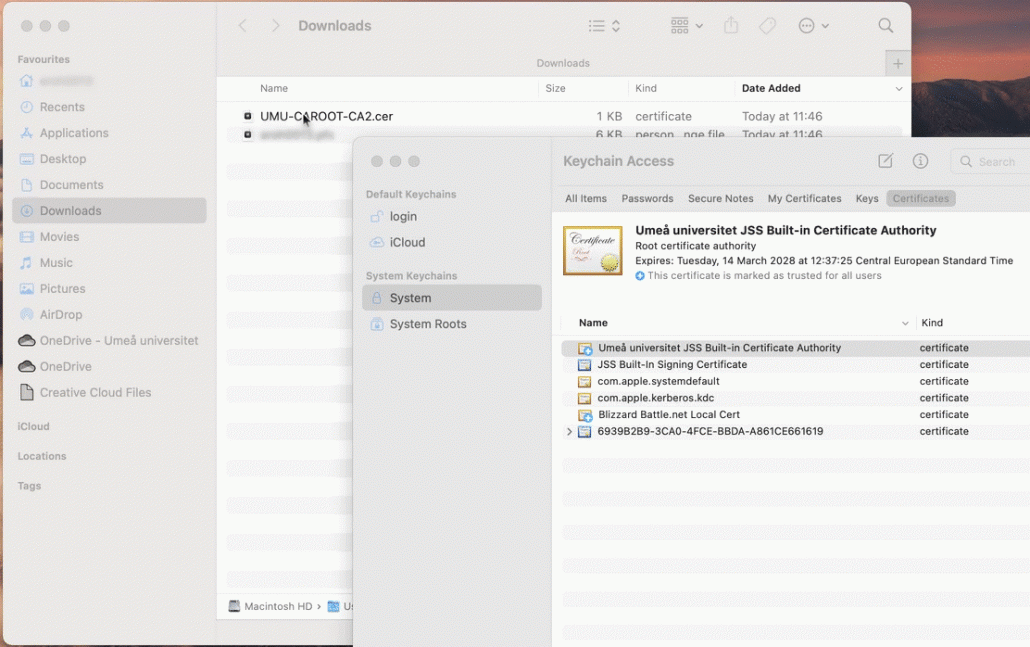 https://manual.its.umu.se/wp-content/uploads/2018/02/manual-loggo.png
0
0
Erik Öhman
https://manual.its.umu.se/wp-content/uploads/2018/02/manual-loggo.png
Erik Öhman
2021-12-15 10:02:42
2021-12-17 09:31:23
Install eduroam for macOS (Manually)