At UmU we use an antivirus/antispam filter that removes most incoming mail.

An ordinary day in March 2019, about 900,000 emails were received by the University, of which approximately 888,000 are immediately stopped because the server/address that sent the email has been classified someone who sends spam.  
Then the remaining mail is analyzed and about 12,000 are then classified as spam and stored in the users spam quarantine.  Approximately 200 mails come in every day that are phishing mails or contain harmful/virus coding.
A spam mail could be a mail with only links and/or from mail domains that have not received high confidence points before (have ex. sent spam or come from a new server).
How to use the filter
If you are missing any mail or want to verify what is in the quarantine go to the following link: https://antispam.umu.se/
Log in with your Umu ID and password.

You will then see a list of all the emails that are in quarantine.
Mail in quarantine will sit there 180 days before they are removed.
*NOTE*
You can mark the mail(s) that are not spam and choose to "release" them and 'whitelist' the sender so that they do not get stuck in the SPAM filter again, or 'blacklist' them and these mails will never come into your inbox. 
Initially, a mail will be sent at 12 o'clock every day if there are new messages in your quarantine.  You must click on the link at the bottom of the email that goes out to access the quarantine.   Those who have function mailboxes cannot log in to the portal via https://antispam.umu.se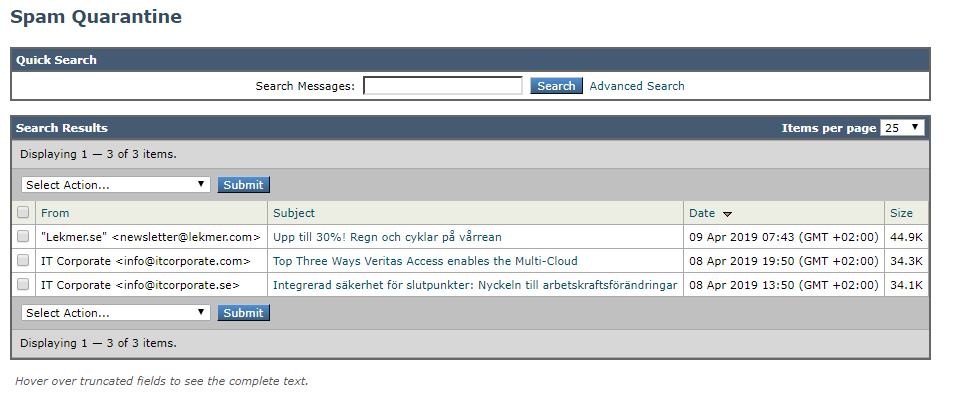 Save or release an email message
You can, via th emenu options choose to blacklist or whitelist an email address or domain.
You can choose, for example, mysafeaddress@hotmail.com  or  bademailserver.nu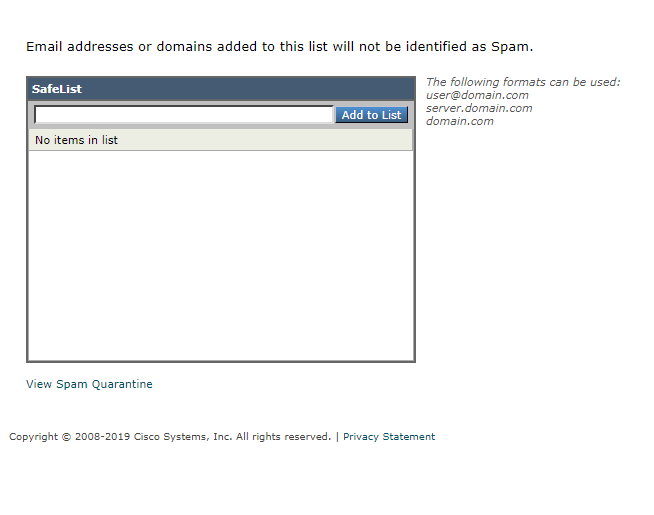 https://manual.its.umu.se/wp-content/uploads/2018/02/manual-loggo.png
0
0
Linda Johansson
https://manual.its.umu.se/wp-content/uploads/2018/02/manual-loggo.png
Linda Johansson
2019-04-08 13:41:09
2019-04-23 10:42:13
Anti-spam UmU